SWIFTS ON TRAILERS
and other modes of ground transport for a Swift...



If you have to transport a Swift by road, there are certain challenges. One major obstacle is that a Swift with the center section still attached is wider than the limit most everywhere for trailering by road. This leads to some rather impressive photos of Swifts "on the road".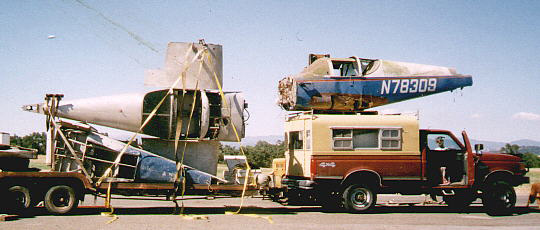 ...and this first photo is impressive indeed.
This is how Nevada based Swifter Don Bartholomew
transported some Swift "projects" from Santa Rosa, CA to Minden, NV
where Swift expert Don has his shop.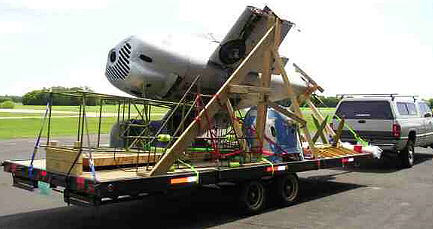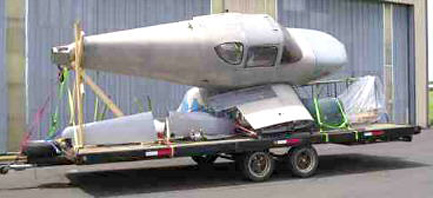 Pictures of a Swift 90314 on trailer. Mark Holliday moved it from Connecticut to
Lake Elmo in June 2004. There is also a Fokker Dr1 tri-plane on the trailer.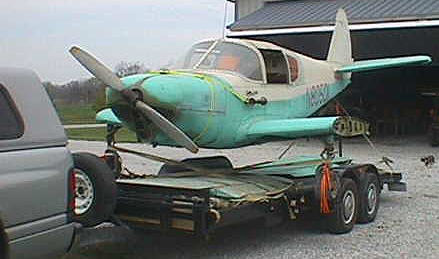 March, 2000... Swift serial number 4 being removed from long term inactivity by Snap Lemon. Snap is doing a lot of work lately picking up Swifts for Swiftworks. His current rig of choice involves a 2001 Dodge Pick-Up with a 24 valve, turbo charged, 359 cu.in. inline 6 cylinder Cummings diesel. The trailer is a custom built 20 footer built by Snap. According to Snap the rig, with a Swift on board the trailer, pulls with no effort at all "at any speed" while maintaining 19 mpg. Said Snap...
"A Swift can be EASILY loaded by ONE person with this trailer. And for some reason being 10.3" wide is NOT bothered by any Highway Patrolman. Have even had them ask me about the plane in truck stops and gas stations in six states. They have followed me, passed me, and waved to me. But never stopped me. Flat hauling (as opposed to canted) is the best and safest way to haul a Swift, and it is the only way you can haul one with the engine on"

According to Jim Montague...
When I was younger (and had more guts!) I would just put the Swift on a trailer with the the gear hanging over the edge, and bias the width to the inside. Its a little over 10 feet wide, so illegal most places. For the last 20 years or so I've tilted the airplane up to get it's width down to about 8 feet. I bolt a chunk of hefty angle iron to the trailer bed, and bolt it to the wing attach fitting. The other wing attach is way up in the air, propped up by a 2" x 6" with an angle iron again tying it to the board. Other 2" x 6"'s brace it fore and aft. A second "tripod" supports the tailwheel.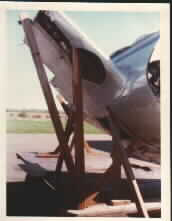 The other day Jack Cheney called and he said wants to trailer from CA to MI. For a trip like that I guess I would remove the centersection from the fuselage. There are two styles, the early, which includes the first few hundred GC-1A's, the GC-1B's from s/n 1001 to (about) 1103 and a few of the 2000 s/n's. The early cc's are riveted onto the fuselage. To separate them is harder, but not impossible. I laid on my back in a crushed rock parking lot in New Jersey drilling rivets with an electric drill to separate the fuselage/centersection on s/n #8 when I bought it in 1978. The late airplanes unbolt, but that is not exactly easy either. The control cables must be undone, its best to tag everything. The wires must be removed from the junction block in the belly, and the harnesses unclamped and pulled free as necessary. The hydrallic lines should be capped as necessary. The flap rods should be removed. The fuel lines and anything else that connects the fuselage and centersection must be removed. The main structural bolts are in two "U" channels at the L & R sides of the cockpit. See why I avoid separating them if possible?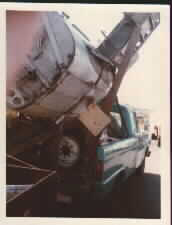 Or... you can just stuff the whole thing in the back of a pickup truck !!!!!!!
*** however ***
I wonder how many people would believe
you can trailer 4 Swifts at once!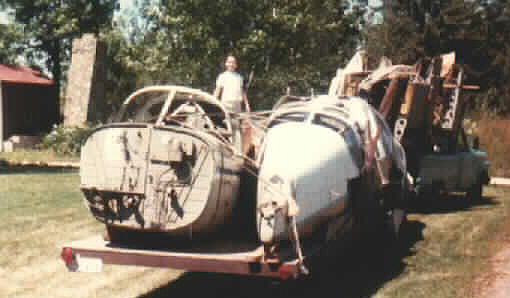 I bought these 4 in 1978 in Andover, New Jersey and trailered them over 1500 miles here to MN. I made a phone call, and sold the engines to Vince Fette in FL. The rest came back in one trailer load. The 4 fuselages were stuffed with control surfaces, etc. and the 4 centersections and whatever wings are on the pickup truck. S/N # 8 is the most intact of the bunch, and it is now flying again. It is the one with the green firewall below my 8 year old daughter. (now 28) The yellow and white one is CF-HPL, s/n 2242, it is being used for parts now for another rebuild project. Vaughn Armstrong owns a Swift which has the title s/n 2242, I wonder what airplane THAT really is! The other two s/n's I don't remember, that was before I got to be a nut on this stuff!
--- Jim

Below is the Swift trailer used very successfully by Swift expert Don Bartholomew of The Aeroplane Factory in Minden, NV. Quite a few Swifts in Don's shop have made the trip up and down the west coast like this. In the photo we see Dick Marlow's Swift restoration ready to be towed up to Minden from Banning, CA


Below are a couple of shots of a West Coast Swift placed on a U-Haul trailer back in the mid '80s. It was illegal width wise, but as I recall they didn't get caught... (No "wide load" premit, just the signs.)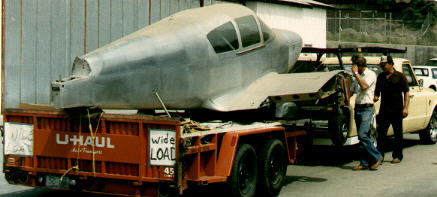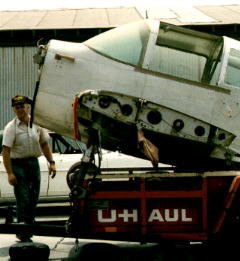 Swift N3232K returns home to Whiteman Airport after begin repaired by
the Aeroplane Factory's Don Bartholomew.