COMPLETE AIRCRAFT
Click on small photos to enlarge...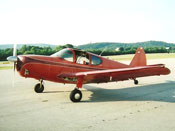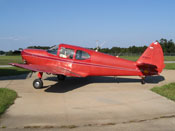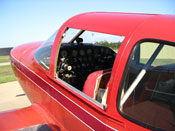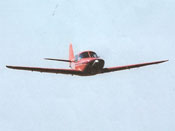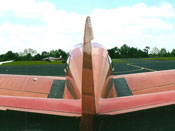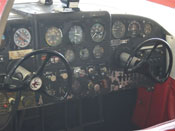 1946 Swift GC-1B, N78071 - sn 2071
Very nice Swift TTAF 1715, Continental O-300D, SMOH 206 McCauley Prop - TT 206
KX125 NAV/COM, Two-place intercom, GTX320-A transponder, Encoding alt., AK 450 ELT, Electric Trim,
Flat-baggage deck, Gull wing canopy, Shoulder harness, Cleveland wheels & brakes, Improved hyd
gear motor, Original wing-tips, Strobe light, and Piper pitot blade. Hangared. Flown regularly
Annual: Oct / Nov time frame and can be done for new buyer. Located Enterprise, AL (KEDN)
Asking $29,900 Contact: Roland Tanner (334) 447-6201 or (334) 894-0678 or email rtanner003@centurytel.net
(Oct 2017)

1946 Globe GC-1B Swift, N78320 - sn 2320
TTAF 3112, TSMOH 518 on C-145-2 APPAREO ESG ADS-B OUT AND IN, Plane Power Alternator, Sky-Tec
starter, Tanis oil heater, trickle charger. STC's: Merlyn increased gross weight, Merlyn access door, and
Electric trim. LED strobe/ nav lights, wing tips and tail. C-150 seats with shoulder harnesses, fire resistant carpeting and new aircraft battery. Annual good to 10/17.
All log books back to when she flew off the factory floor. I am the purchasing manager at the KAVP FBO,
this is a well maintained aircraft. Why am I selling the love of my life? The bride says it is too small for cross country flights to grandchildren so I am not utilizing it enough flying by myself.
Price: $44,500
Contact: Barry (570) 903-5121 or email srlbry@yahoo.com
(Aug 2017)

1947 Globe Swift GC-1B, N78244 sn 2244
180 HP. Airframe under 2300 hours. Engine, prop & mags less then 30 hours breakin time. New engine mount and JPI-700 analyzer. New seals and bushings in landing gear. P-51 doors, new tires. New Concord RG 35 battery. Scott tail wheel. Cessna 150 seats. Tip strobes. 9 gal. aux tank, and gross weight increase. Garmin 296.
All logs and records back to 1947. Fresh annual March 2017. Always hangared for my 13 years ownership.
Fun, fast airplane, but needs to be flown more than I'm able.
All reasonable offers will be considered.
Contact: Bob Carver (714) 420-0616 or email rcarve@sbcglobal.net
(Jan 2016)(June 2017)
PRICE REDUCED!!! PRICE REDUCED!!!

1946 Globe GC-1B Swift, N80589 - sn 92
200HP CS PROP 150MPH 9GPH IFR SUPER SWIFT!! KX155 with 209 G/S, 89B Panel Mount IFR Cert GPS Transponder and TKM 2nd Radio. Has gross weight increase and 36 gal of fuel. Owned for 20 years in
Excellent Shape! Reason for selling--we are in our mid 70-ies and it is just time to pass this Hot Rod on
to a new care taker. $44,900 with some wiggle room. Located North Uxbridge, MA
Contact: David Turner (508) 498-1776 or swwiftt@yahoo.com
April 2016)

1948 Temco Swift GC-1B, N2301B sn 3601
Well-maintained Swift that is currently located in Provo, Utah with 3,672 hours
AFTT is considered average for Swifts which were built from 1946-1950.
The paint and interior are upgraded from original in and are in good condition.
Modified with individual Cessna 150 seats, a larger engine, constant speed propeller,
increased gross weight, auxiliary fuel tank, control sticks and fiberglass wing tips
(original Wing Tips included) and cowling as well as numerous other modifications
documented. Click here for Spec Sheet.
The airplane needs the prop inspection AD (or replacement) to finish the annual.
$35,500 Contact: Clyde Fredrickson (385) 985-4488 or email chfredricksoniii@gmail.com
(March 2015)

1950 Temco Swift GC-1B, N817CC sn3741
2,278 Hours TTAF Airframe:
Polished with Red Trim; Underside Surfaces Painted Silver
Original Hatch and Classic Swift Smile Cowl Wingtip Strobes, Plus LED Landing Lights in both wings,
Cleveland Wheels and Brakes, P-51 Style Gear Doors, New Aero Classic Tires, Cessna 150 Seats
with New Foam Padding, New Carpets, Side Panels and Hat Shelf Cover in 2006, New Seat Belts and
Shoulder Harnesses, Elevator Trim Wheel Between Seats, Heavy Duty Hydraulic Pump Motor.
Engine and Fuel System:
835 Hours SMOH on Continental O-300-A converted to downdraft cooling, 51 Gal Fuel: 26 Main
plus 12.5 in each Outer Wing, Cessna 170 Oil Cooler with Adjustable Oil Cooler Air Inlet, Remote
oil filter on the firewall, Steve's Aircraft Gascolator, Reiff Engine Preheater, Electric Boost Pump.
Avionics:
Garmin 430 WAAS GPS/Nav-Com, Garmin GDL-88 ADS-B (In and Out for Traffic and Weather),
King KY 97A Com Radio, King KT-76 Transponder, PS Engineering PMA 4000 Intercom, JPI EDM-700
Engine Monitor, JPI FS-450 Fuel Totalizer, ACK E-04 406 MHz ELT with GPS interface, Garmin 496 Portable
GPS with mounting bracket and power supply, Monroy AT-300 Supplemental Traffic Monitor.
Extras:
Second hatch with Skylights, Canopy cover from Bruce's Custom Covers, Flannel wing and fuselage
covers, Wing Jacks, Cyclo Polisher.
$80,000 Contact Scott Naumann (805) 549-0817 or scott@naumann.aero
(Sept 2014)
PARTS, PROJECTS,
WANTED, ETC...

For Sale:
2 swift projects for sale. Both suffered a ground loop but have what I would consider minor airframe damage. Contact: George Snyder (520) 661-2127 or email at
azflyboy01@yahoo.com
to discuss the planes or to get more pictures.

For Sale:
Stock Tips in excellent condition. Some slight blemishes that can be worked out, but over all in great shape. Asking $3600.00.
Contact: Doug Schuster (909) 660-2748 or email
superswift170@gmail.com

For Sale:
Rebuilt 24 volt Dukes Fuel Pump. Certified 8130-3 by Aeromotors
P/N# 4140-00-15
No time on this pump since 6-15 rebuild. $800.00
Contact: Doug Schuster (909) 660-2748 or email superswift170@gmail.com



For Sale:
NEW SET THOMASON STICKS FOR GLOBE SWIFT.
NEVER EVEN UNPACKED FROM BOX---NEVER GOT AROUND TO INSTALLING THEM AND
NOW HAVE SOLD THE SWIFT.
Asking $4000.00 OR OBO Contact: George Panker (360) 809-0998 or email
georgegpanker@gmail.com

For Sale:
Disassembling a 210 HP Continental Swift (Engine SOLD) Have many great parts.
If you are rebuilding or sprucing up your Swift and need parts.
Contact: Ernie Hansen ( 360) 808-1858 or email ernestfhansen@gmail.com
Here are some good, low time items.
REBUILT POLISHED WINGS These wings were disassembled, cleaned, epoxy primed and reassembled. Underside, aft part of wings painted, otherwise polished. Merlyn aux tanks, Merlyn gross wt., Stock wing tips, Aeroflash strobes/position lights and Phillips HD landing lights (small, like RV's). All paperwork (STC's) included. Very nice wings, ready to bolt on!! Asking $12,000
GAMI Injectors (291.18 hrs.) GAMI will flow check and provide
New STC for $299—these injectors sell for $899 Asking $300
Slick Magnetos L&R 6314 incl. harnesses (388.88 hrs.) Asking $1,300
Complete Exhaust System Asking $1,000
Cessna 150 Seats. Gray leather by Oregon Aero (388.88 hrs.) Asking $1,400
Cessna 150 Seat Rails (McFarlane, 388.88hrs.) Asking $100
Tailwheel Assembly: A Frame and Scott 2200 Tailwheel Asking $1,500
Complete Tail. Vertical Stabilizer is rebuilt with beef-up. Call if interested
(April 2016)